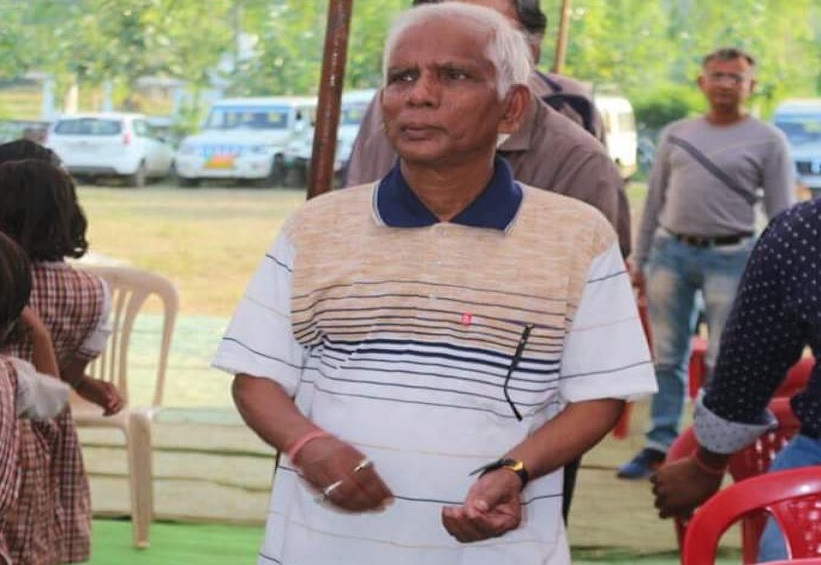 Combating COVID-19: The Tale of a Silent Warrior in India
By Pankaj Adhikari – The media across the world are covering stories highlighting celebrity donations amid the COVID pandemic. But there are few stories about the real heroes who are battling on the ground and fighting silently behind the scenes, away from the media glare, without publicity or a media blitz.
Tucked away in remote villages of central India, a doctor in his 70s who has been battling to run a school for poverty-ridden tribal girls since 1992, against insurmountable odds, is now fighting another battle: providing food and essentials to the poor Baiga tribal community in the state of Madhya Pradesh. 
The battleground is Pondki, a village located 498 km from Bhopal, the capital of the state. The warrior leading the battle from the front is Dr. Prabir Sarkar.
According to Dr. Sarkar, the government was slow to enforce the lockdown and totally unprepared. "It's shockingly irresponsible, without understanding the consequence of its impact on the hungry millions who are already fighting a grim battle for bare survival."
He continues: "I understand desperate times need desperate measures. And social distancing is the only way to stem the spread of this deadly virus. But, for the Baiga tribal community, hunger is the everyday 'virus' to confront even in ordinary times."
On March 24 when Indian Prime Minister Narendra Modi announced the nationwide lockdown at 8 PM, Dr. Sarkar knew the challenges ahead – from reaching out to the Baigas living in inaccessible terrain to abysmal healthcare facilities.
"In normal circumstances, I face a huge funds crunch and literally beg for funds to run my school," he said. "Without funds, how would I save these poor tribal people in this crisis? I know how tough it'd be to raise funds now," he added.
Vikas Chandel, a student at Indira Gandhi National Tribal University in Amarkantak, and some locals pitched in, extending support to Dr. Sarkar and joining his battle. "It's a monumental task, especially transporting groceries and food to the needy as the poor people live in the remote forests in the hills and the road condition is appalling," Chandel said.
Dr. Sarkar and his brigade have been providing food every day to people in 13 villages: Garidadar, Garjan Bija, Harrapani, Hiranchappar, Sanchara, Bijora (Patari), Bendi, Damortola, Bhati Bahara, Mekal Pahar, Dadrashilwari, Khaleybhomra and Ketrdona – in Anuppur district.
"I'm grateful to my volunteers, like Hari Shankar Kumar, Dipendra Tyagi, Makhan Singh, Yedukondalu and Naseer. My efforts would have been futile without their help. They never grumble; they never whine. They've been slogging, braving the heat and dust, to transport the essential items to the poor," he said.
Chandra Mohan Thakur, the district collector, has provided about 25 quintals [2,500 kg/5,500 lb] of rice and Rs 1,000-1,300 [$13-17] per family for 10 days.
As the funds are running out fast, Dr. Sarkar is seeking help from the public. The response has been lukewarm, but he's not unnerved. "We'll continue our battle despite knowing more difficult days lie ahead," he asserts, his invincible spirit and unflinching zeal unmistakable.
"In a corporate-driven globalized world, where only business and profiteering matter, the 'virus' has shown how fragile and vulnerable we humans are," he said. "In a world of brutal inequality, the coronavirus is a great equalizer."
As the sun disappears on the horizon and darkness descends over the hills, Dr. Sarkar sits down and urges his men to prepare for tomorrow's battle. He knows the battle is far from over; he knows he has "promises to keep and miles to go before he sleeps".
Consider taking part in Dr. Sarkar's campaign. Even a small donation will go a very long way:
Donations from India
Account name – Sri Ramakrishna Vivekananda Sevashram [Dr. Sarkar's charitable organization]
Account number – 11512670177
Bank – State Bank of India, Amarkantak
Indian Financial System Code (IFSC) Code – SBIN0004674
Please make donations in INR
Donations from abroad
Account name – Sri Ramakrishna Vivekananda Sevashram
Foreign currency account number – 32695670646
Bank – State Bank of India, Amarkantak
Indian Financial System Code (IFSC) Code – SBIN0004674
Donations are exempt under section 80G of the Income Tax Act, 1961.
The NGO Sri Ramakrishna Vivekananda Sevashram is registered under section 12A of the Income Tax Act, 1961.
Featured image: Dr. Prabir Sarkar