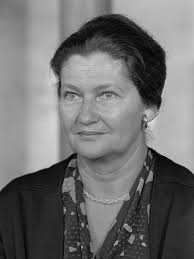 French born Simone Veil, née Jacob, a woman full of courage, rebelliousness, resilience and dignity, a fighter and strategist of reconciliation, died on 30 June 2017 at the age of 89. She fought for peace and remembrance, despite being arrested by the Gestapo in 1944 in Nice, France and taken with her family to the Drancy camp near Paris, from where she was deported to the Auschwitz-Birkenau concentration camp.
The youngest of four children, according to the Agence France Press she was one of only 11 survivors of 400 Jewish children deported from her region. Her parents and brother never returned from the camps.
As a lawyer and judge, Simone Veil did a lot for women. She fought to make access to contraception easier for them, and is best known for legalizing abortion in France in 1975, when she was Minister of Health. Most of Veil's political peers were against the deliberate termination of pregnancy or making it legal, with the result that women who had an abortion were often prosecuted, in addition to being subjected to physical or psychological injury during illegal abortions.
Veil was pro-European, arguing that close links and cooperation between the European countries would increase the chances of preventing another world war and avert the pain and suffering she had endured as a youth. She was elected to the European Parliament in 1979, and became the first president of the selected Parliament, and the first female president since the creation of the Parliament in 1952.
During her speech before the Parliament, she stated, "… this is the first time in history, a history in which we have so frequently been divided, pitted one against the other, bent on mutual destruction, that the people of Europe have together elected their delegates to a common assembly representing, in this Chamber today, more than 260 million people."
In 2008 Simone Veil was elected to the French Academy, the distinguished French council for matters pertaining to the French language, established in 1635. At the time she was only the sixth woman to be recognized by that establishment. She received the French Grand Cross of the Legion of Honor, the highest order of distinction in France for military and civil merits, in 2012.