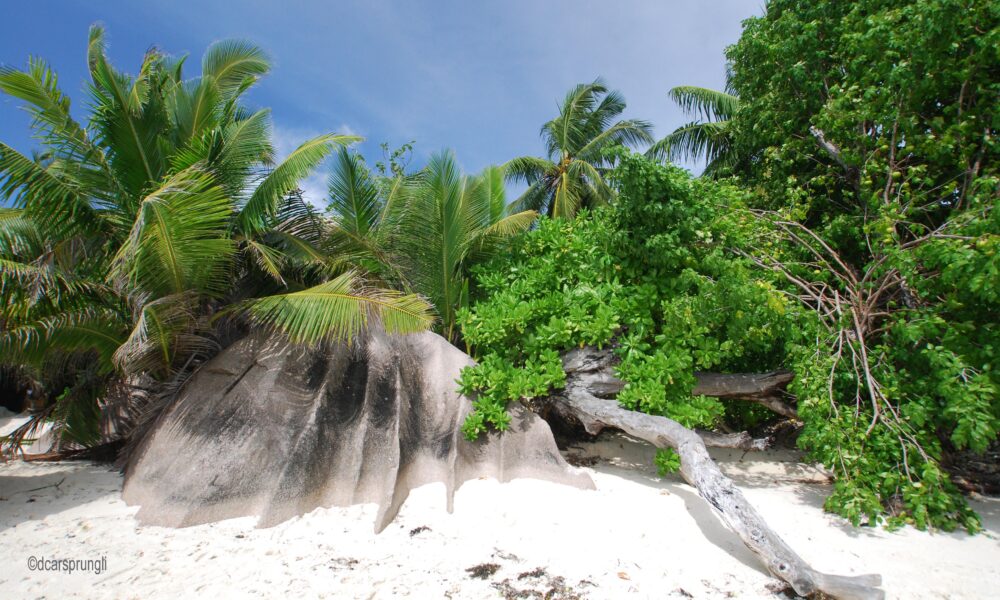 The Seychelles archipelago, located in the western Indian Ocean, some 1,600 kilometers off the coast of East Africa, consists of 115 islands, 72 of which are remote. Mostly frozen in time because it is so difficult to access them, the isolated islands abound with marine life, birds and other animals. For example, Cosmoledo is known for its pristine coral reefs, and Aldabra, a UNESCO World Heritage site, is home to the world's largest giant tortoise population.
With a population of less than 100,000 people, the archipelago has one of the smallest GDPs in the world and its people rely heavily on tourism and fishing. Although mostly well-preserved, the Seychelles islands, both outer and inner, are still facing human pressures, such as plastic pollution, overfishing and climate change.
Debt-for-conservation deal
The government of the Seychelles is taking steps to address these issues, by signing the world's first debt-for-conservation deal with The Nature Conservancy in 2016. The non-profit then aligned with some investors to buy a percentage of the Seychelles' national debt and put it into the Seychelles Conservation and Climate Adaptation Trust (SeyCCAT), which offers low interest rates on repayments.
The trust puts money into projects to protect marine life and address climate change effects. Showing the success of the debt-for-conservation deal, in March 2020, former Seychelles President Danny Faure announced the nation had followed through on its pledge to protect 410,000 square kilometers of its waters, an area around the size of Germany.
"Seychelles is ultimately an Oceanic State and our people are connected to the ocean. By protecting these large areas, we are not only safeguarding our marine environment but balancing economic growth through the management of the resources that the sea provides," the president said in a statement.
Sustainable tourism
Projects are also afoot to use tourism to further protect the islands and their biosystems. For example, Blue Safari offers travelers the chance to explore the Outer Islands of the Seychelles and help to protect their ecosystems. Visitors pay a conservation charge of $25 per day, which Blue Safari puts into a foundation aimed at ecological and environmental programs and initiatives.
Activities include bird watching and the not-so-exciting beach clean-up – because tons of plastic, mostly from ships, washes up on Outer Island beaches every year, and the amount is growing, with flip-flop sandals and water bottles among the most common items found.
To help raise awareness of the problem, in March 2020, the Ocean Project Seychelles, a non-governmental organization, erected a "plastic ocean arch" made from rubbish collected on the Outer Islands.
According to a report published by Allied Market Research in January, the global ecotourism industry generated $181.1 billion in 2019 and is projected to reach $333.8 billion by 2027.
COVID-19 and travel
Yet, due to the COVID-19 pandemic, tourism is down. Although the nation has had relatively few infections and deaths compared to many areas of the world, the country closed its borders in April 2020 and reopened them with restrictions in July. As of August 9th, more than 70% of its estimated 98,000 population was fully vaccinated, making it a world leader in vaccinations.
At present, Seychelles allows entry to visitors from all countries except Bangladesh, Brazil, Côte d'Ivoire, Guinea, India, Nepal, Pakistan and South Africa. Visitors who have been to one of these countries within 14 days preceding their arrival in Seychelles may not enter and those having been in one of these countries more than 14 days before arriving in Seychelles must present a negative PCR test result taken within 72 hours before travel to be allowed entry, as well as proof of their stay in a country outside of those mentioned. Travelers from other countries may enter after applying for entry through the Health Travel Authorisation platform at seychelles.govtas.com and providing proof of a negative PCR test taken less than 72 hours before arrival.
Visitors traveling by sea may enter Seychelles but will require prior approval of the Public Health Authority.
While the government does not require vaccinations for entry, visitors are strongly encouraged to be fully immunized before travel.
With tourism numbers down, less money is making it into the programs that would help the country, both in terms of its people and the environment. The numbers will rebound as potential travelers receive their vaccinations and choose Seychelles and its sustainability programs as their destination.