The Good Times came across this story recently, about one person's masterpiece. James Hampton was a janitor for the General Services Administration in Washington, DC. Nothing much is known about him, except that in around 1950, when he was in his early forties, he rented a garage in his neighborhood. He would work in that garage until his death in 1964, when his masterwork was discovered by his landlord. He had few friends, and no one knew what he was doing in that garage.
Every day after work for 14 years, Hampton toiled away at his project. He collected gold and silver aluminum foil, Kraft paper, plastic, wood furniture, paperboard, and glass, plus wooden planks and supports, cardboard cutouts and hollow cylinders, insulation board, light bulbs, desk blotters, mirror fragments and electrical cables, which he applied to build his monument. When it was discovered in the garage, it comprised 180 pieces. 
The work is called The Throne of the Third Heaven of the Nations' Millennium General Assembly. At the top appear the words, "Fear Not".
Made from the objects he found, the sculpture appears to be a chancel, the part of a church near the altar reserved for the clergy and choir. According to the Smithsonian American Art Museum in Washington, DC, where the piece can now be seen, it is "complete with altar, a throne, offertory tables, pulpits, mercy seats, and other obscure objects of Hampton's own invention. His work also includes plaques, tags, and notebooks bearing a secret writing system which has yet to be, and may never be, deciphered."
The work is truly a tribute to one man's persistence, vision and passion.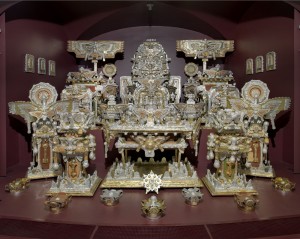 For more information see the Smithsonian American Art Museum.