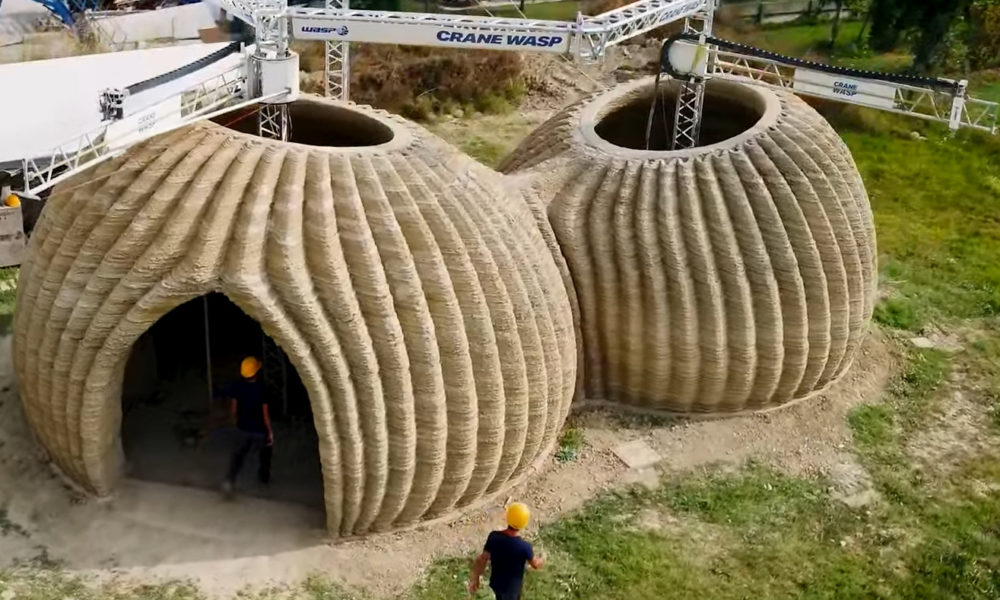 It looks a bit like a beehive, this 3D printed home located in Massa Lombarda, a town in northern Italy near Ravenna. It took a large 3D printer about 200 hours spaced out over a few months to print this 60-square-meter (645-square-foot) house that looks like no other.
Certainly it is not the only 3D printed infrastructure in the world. Another, a house in Germany, made of concrete, is about 160 square meters (1,722 square feet). Other structures include several houses in the United States, a bridge in the Netherlands, housing in India, and a family home in France. The first building, it would appear, was a house that was finished in 2015 in Yaroslavl, Russia.
So what makes the Italian version different, other than its obvious design? This one is made of mud.
The project, called TECLA, used large machines with specialised nozzles to squirt clay dug up from a nearby riverbed into this interestingly shaped house, making it the first 3D-printed house made entirely from raw earth. 3D printing firm WASP and architect Mario Cucinella partnered to build what had often been built over thousands of years using human hands: dwellings from earth.
"It's combining this evolution in technology with a basic material you can find anywhere on the planet," said Cucinella. "A combination between high tech and local material."
3D printing has been around for a while – since the 1980s, to be exact. While it was extremely popular in industry starting early, it didn't become popular with the masses until after 2010, once it had reached greater maturity and prices fell.
The first printers used photopolymers, a kind of acrylic-based substance. An ultraviolet laser beam hits the photopolymer when it leaves the nozzle, turning it into a solid plastic. The first printers allowed inventors to print accurate prototypes and test new designs much faster and to print prototypes more cheaply.
This Italian house has a day area with a kitchen and a night area with a bedroom. The furnishings are also partly printed from local earth and are integrated into the structure. Each dome has a glass skylight to allow natural light into the space, which works well in Italy. In a different climate, it would be possible to change the design to enable efficient heating or cooling.
This is important in terms of climate change: UN Environment estimates that the construction industry accounted for 38% of total carbon dioxide emissions in 2019. This includes manufacturing cement and transporting heavy materials. By replacing concrete with clay, the construction industry can significantly reduce its carbon footprint, not only in terms of making concrete but also in transporting it for use in construction. It is a pioneering example of low-carbon housing.
"The idea was to adapt the house in relation to the climate conditions," Cucinella said. "We're doing some experiments with adding layers outside the house to make the water run off faster," he said, "and we're still analysing the behaviour of the house and how the building reacts to heating."
Featured image: TECLA eco-sustainable 3D printed house. Source: Drone views: Italdron (CC BY 2.5, via Wikimedia Commons)
Tags
3D
,
architecture
,
eco-house
,
house
,
Italy
,
low-carbon
,
Mario Cucinella
,
Massa Lombarda
,
mud
,
technology
,
TECLA
,
WASP