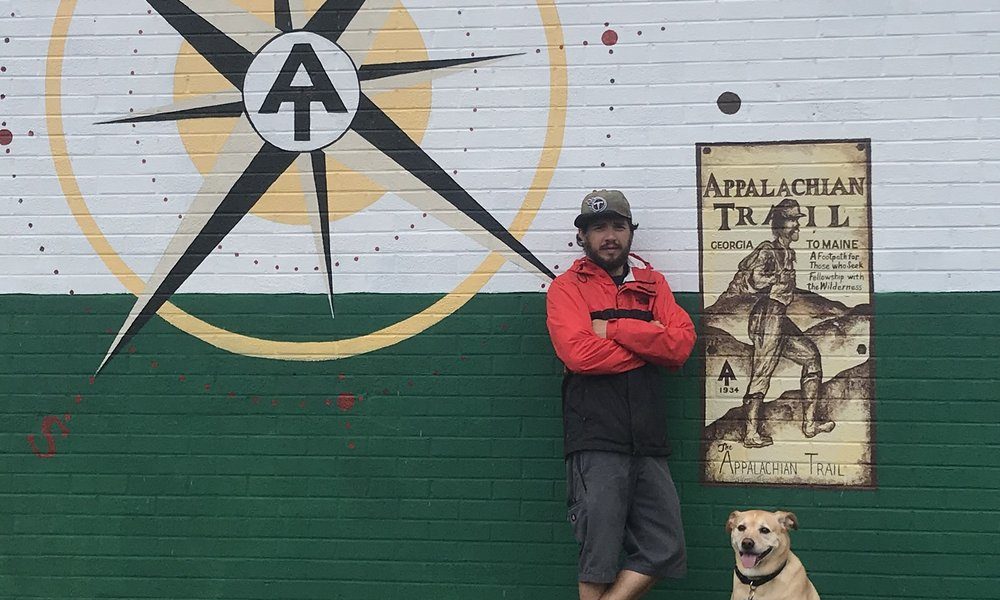 The Appalachian National Scenic Trail, most commonly known simply as the Appalachian Trail or AT, is the "longest hiking-only footpath in the world, measuring roughly 2,190 miles." As many as 3,000 people attempt to hike the entire trail each year, which takes between 5 and 7 months. Yet only 1 in 4 actually succeed in walking the entire path. They do so "for a variety of reasons, such as reconnecting with nature, escaping the stress of city life, meeting new people or deepening old friendships, or experiencing a simpler life."
The non-profit organization One More Day on the Appalachian Trail has a special connection with some of the hikers on the trail. The organization provides scholarships "for young people in recovery from substance use disorder, or other life changes, who are seeking healing and joy on the Appalachian Trail."
The One More Day on the Appalachian Trail Nate Loftis Memorial Scholarship was started to honor the memory of Nate, who had a deep love for the trail. Nate hiked 786.6 miles of the AT in 2018, and sadly lost his life to an accidental overdose in 2019. One More Day on the AT is a registered 501(c)(3) nonprofit organization that funds Appalachian Trail thru-hike scholarships for individuals in recovery from substance use disorder or other challenging life circumstances who are seeking healing, joy, and connection on the trail.  
Nate Loftis's family created the non-profit and scholarship in 2022. In that year, the first scholarships were awarded to four young people with stories of inspiration and hope in the face of difficult life situations.
The full scholarship recipient, Adam Dube from Hooksett, New Hampshire, struggled with substance use disorder for 12 years and, as a result, experienced many adversities, including homelessness, the death of friends, and shunning by his family. He aspired to walk the Appalachian Trail for his own healing and also to inspire others who were struggling to overcome addiction. Adam completed the entire 2,190 miles in November of 2022 and went on to hike the Florida Trail. He says his AT trek changed his life, and he has used lessons learned on the trail to continue living a sober existence.  
Three other individuals received partial scholarships: Justin Tucker from Windsor Mill, MD, Mari Kempf from Muskegon, MI, and Carly Brunault, from South Hadley, MA. The One More Day website features information about their treks.
Mari spoke about her inspiration for applying for the scholarship: "I'm a 25-year-old woman who left the Amish community, the only life I've ever known, after surviving years of abuse from the church. Hiking and being out in nature have always given me fresh perspective…. I wish for clarity and peace. I wish for the knowledge, the means, and confidence to help others who wish to experience the outdoors in a healing capacity."
The scholarship of up to $6,500 per recipient includes the purchase of gear, trail expenses, and transportation costs at the launch and completion of the hike.
"Mountains are a beautiful creation. Any trail you can accomplish, any mountain you can summit – let that serve as a reminder that you can overcome anything!" – Jason Halsey, 2022 Honorable Mention awardee
2023 award recipient, Mary Wilson, from Arlington, VA, hopes to become the first blind woman, along with her guide dog Thor, to complete the entire Appalachian Trail. Through her hike, she wants to continue her disability advocacy work by showing the world what disabled people are capable of achieving when given the opportunity. Mary's progress is spotlighted on Instagram @shadesblindhiker
One More Day on the Appalachian Trail will accept applications for the 2024 scholarship from August 1 to October 8, 2023.
Featured image: Nate Loftis, 2018