Should Western companies adopt jugaad innovation? Jugaad is a Hindi word that translates to finding a low-cost, creative, quick and alternative way of solving or fixing problems. It promotes constructive and different thinking about innovation and strategy. It's an Indian way of improvising, sometimes expressed as, "making do with what you have".
In India, the concept of jugaad is even used in the operating room. For example, a common paper clip can be used to hold a skin flap in place while operating. Usually, something called a Raney clip does the job, but it's hard to find in India and costs much more. Another innovative idea is using honey (in India from beehives on Neem trees) instead of betadine to heal wounds. Of course basic principles of sterilization and operative technique must be maintained when using these cheaper substitutes, but practice has shown that when honey is used in certain circumstances to dress a wound, the surface area of the injury as well as pain decreases. 
Also in medicine, mosquito netting has replaced polypropylene mesh to treat ruptured tissue as in the case of adult groin hernia. Again, the mosquito net cloth is much less expensive than the mesh, and just as effective. 
According to the book Jugaad Innovation: Think Frugal, Be Flexible, Generate Brea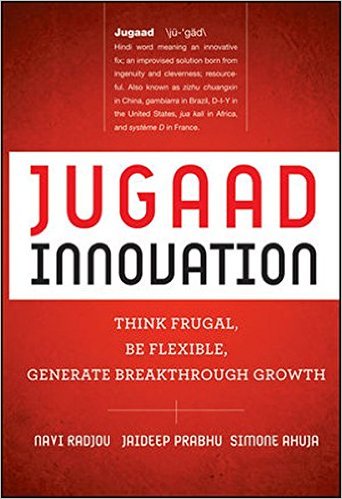 kthrough Growth by Navi Radjou, Jaideep Prabhu and Simone Ahuja, published in 2012, the six principles to this innovative method are "seek opportunity in adversity, do more with less, think and act flexibly, keep it simple, include the margin, and follow your heart". The book features 20 case studies that show certain large, global companies are practising jugaad innovation. They include Google, Facebook, 3M, Apple, Best Buy, GE, IBM, Nokia, Procter & Gamble, PepsiCo and Tata Group. 
The concept is known as zizhu chuangxin in Chinese, gambiarra in Brazil, D-I-Y in the United States, jua kali in Africa and système D in France.
Tags
cleverness
,
Hindi
,
honey
,
improvise
,
India
,
ingenuity
,
innovation
,
Jugaad
,
low-cost
,
medicine
,
resourceful
,
solution