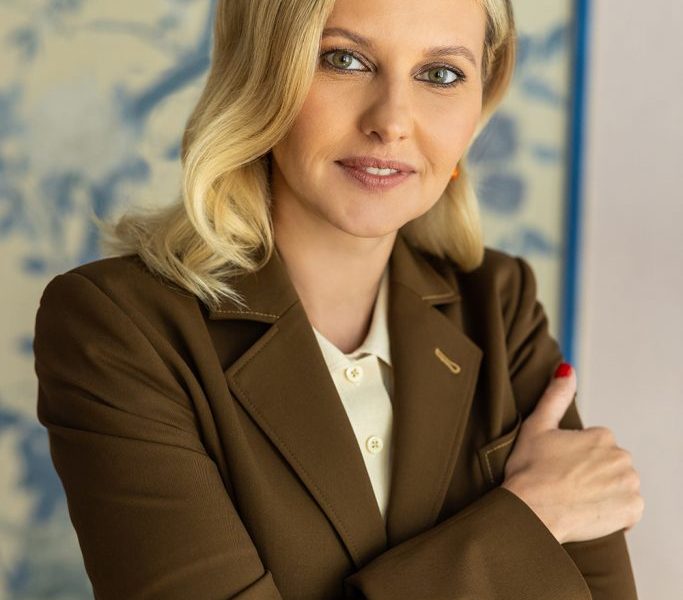 Olena Zelenska, a former architecture student who is a screenwriter by profession, is credited with initiating Ukraine's accession to the G7 international initiative on gender equality – the Biarritz Partnership – in December 2019 during a speech at the third Ukrainian Women's Congress (a permanent public platform that defines the gender policy agenda for the Ukrainian Parliament, government, local communities, private and public sectors and media community). The accession was finalized in September 2020.
This is just one of her many actions on behalf of the Ukrainian people as the First Lady of Ukraine since 2019.
Her first initiative was nutrition reform in Ukrainian schools, a program encompassing improvements in food quality, nutrition and safety as well as the provision of resources to schools. The new school menu has 160 items, including traditional Ukrainian dishes and popular cuisine from around the world.
In addition to being active in equal rights for women and men, participating in platforms to advance equality, Zelenska has also started an initiative to spread the Ukrainian language worldwide, notably through Ukrainian-language audio guides in the largest museums in the world. What's more, she seeks to create a barrier-free society in Ukraine aimed at helping vulnerable groups get the services they need.
Zelenska also initiated the Kyiv Summit of First Ladies and Gentlemen in August 2021, under the theme of "Soft power in new reality".
In the war with Russia, Laura Hampson with Yahoo!News reports that "Ukrainian first lady Olena Zelenska has paid tribute to the women of Ukraine in a moving Instagram post. Posting a slideshow of images to her feed, the First Lady pointed out that there are two million more women than men in Ukraine and said this takes on a 'new meaning' following Russia's invasion."
"This means our current resistance has a particularly female face," Zelenska wrote in the caption of images showing women, including those in the army, medics and those in bomb shelters. She added that she "admires" and "bows" to the women of Ukraine, which she called her "incredible compatriots".