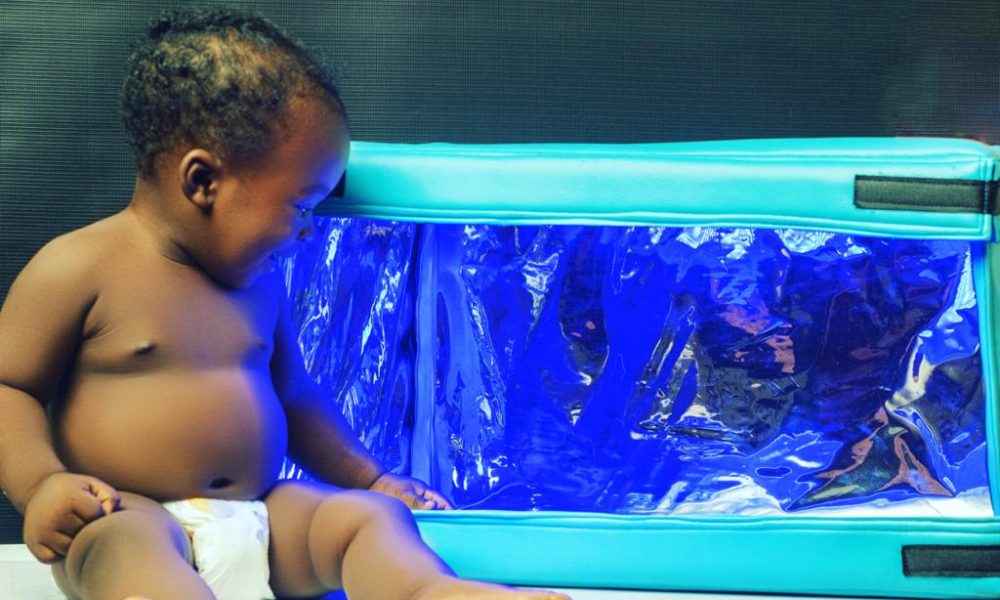 Babies get jaundice, a common and usually harmless ailment that causes yellowing of the skin and the whites of their eyes. Some 60% of all babies worldwide get jaundice and most do not require any treatment. For those who do, the first step is phototherapy, or exposure to blue light, which helps a newborn's liver break down bilirubin, the yellowish substance that causes jaundice (which is made by the body when it destroys old red blood cells). The blue light removes bilirubin from their blood.
But the treatment is not so straightforward in Africa, where many hospitals and clinics don't have the necessary equipment. One woman in Nigeria is on a mission to change that. She has invented Crib A'Glow, a solar-powered crib that hospitals and clinics in even the most remote regions can use to cure babies of jaundice.

The woman, Virtue Oboro, came up with the idea after watching her son go through a blood transfusion when he got jaundice and the hospital didn't have a phototherapy crib to treat him.
"I felt like some of the things [I experienced] could have been avoided, or the stress level could be reduced. I thought, is there something I could do to make the pain less for the babies and the mothers?" – Virtue Oboro, founder, Tiny Hearts
The crib is portable and costs one-sixth the price of a traditional phototherapy crib. It is manufactured by Oboro's company, Tiny Hearts, in Nigeria.
Oboro has had to overcome resistance from hospitals and medical professionals in her country: "It was not an easy thing to get them to test the unit, because the perception was that if it was made in Nigeria, it probably would not work well," she said.
The company's mission has expanded since its founding, providing other medical equipment and essentials to hospitals and healthcare providers worldwide. These include "incubators for preterm babies down to our natural diaper rash creams, reusable diapers, washable and delivery bed mats," according to the Tiny Hearts website.
In 2020, the company received a $50,000 grant from Johnson & Johnson to make the first units. It is already making an impact, serving more than 400 hospitals in Nigeria and Ghana and treating 300,000 babies for jaundice.
It also runs a Yellow Alert program to educate health workers and mothers about neonatal jaundice.
Oboro is a 2022 Africa Prize for Engineering Innovation finalist. She recently noted "a further 200,000 babies have been saved from jaundice by deploying the cribs to rural areas—no hospitals or electricity needed."
Featured image: Crib A'Glow solar-powered crib by Tiny Hearts.
Source: Tiny Hearts website
Tags
babies
,
bilirubin
,
crib
,
Crib A'Glow
,
hospital
,
jaundice
,
Nigeria
,
phototherapy
,
solar power
,
Tiny Hearts
,
Virtue Oboro