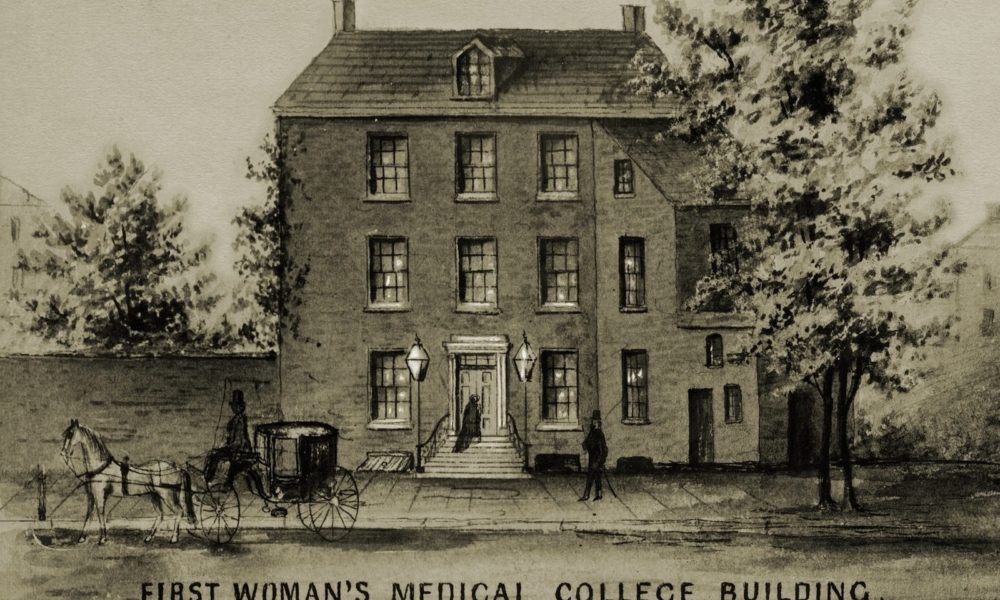 To commemorate International Women's Day this March 8th, here's a photo taken in 1885 of three women who graduated from the Woman's Medical College of Pennsylvania. Founded in 1850, this school was one of the earliest universities in the world to train women to be medical doctors. According to the Encyclopedia of Greater Philadelphia: "The college provided rare opportunities for women to teach, perform research, manage a medical school, and, with the establishment of Woman's Hospital in 1861, learn and practice in a hospital setting. It was the longest-lasting all-women medical school in the nation, until it became coeducational in 1970, admitting four men into what became the Medical College of Pennsylvania."
From left to right, the women pictured are:
Anandibai Joshee

from India, who graduated in 1886.
Joshee was one of the first female Indian doctors of Western medicine. From a wealthy, high-caste family, she was married at the age of 9 and had a child at the age of 13 who only lived for a few days. She stated that her interest in medicine came from this experience and the belief that her child would have lived had he received better medical care. In her letter of application to the Woman's Medical College, she wrote: "[The] determination which has brought me to your country against the combined opposition of my friends and caste ought to go a long way towards helping me to carry out the purpose for which I came, i.e. to render to my poor suffering country women the true medical aid they so sadly stand in need of [since] they would rather die than accept [care] at the hands of a male physician. The voice of humanity is with me and I must not fail. My soul is moved to help the many who cannot help themselves." 
After receiving her medical degree, Joshee returned to India where she was appointed Physician-in-Charge of the women's ward at the Albert Edward Hospital in Kolhapur, South Maharashtra. Although she died in February 1887 of tuberculosis before starting her job, she is also remembered for her speech at Serampore College in Calcutta on the need for female doctors and her belief that they could best serve other females. 
Kei Okami

from Japan, who graduated in 1889.
Okami was the first Japanese woman to receive a medical degree from a Western university. At the age of 25, she married and moved to the United States with her husband. There she converted to Christianity and received funding from the Woman's Foreign Missionary Society of the Presbyterian Church to study medicine at the Woman's Medical College.
After graduation, Okami returned to Japan and specialized in gynecology and tuberculosis at Tokyo's Jikei Hospital, before opening her own clinic in her home near Tokyo. In 1897, she set up a sanatorium (eisei-en) for women with tuberculosis as a branch of the Akasaka Hospital, and a nursing school for women. 
Sabat Islambooly

(also known as Tabat Islambooly)
from Syria
, who graduated in 1890.
Islambooly was one of the first Kurdish female doctors. Little is known about her after her return to Damascus. But she, like her fellow classmates, challenged the gender discrimination and cultural expectations and influences of the 19th century to pursue her goal of earning a degree in medicine.
These women's resolve and dedication helped pave the way for other women to persevere in their desire to study medicine or other disciplines at institutions of higher learning. They left their countries, traveled alone to a distant and foreign land, and found ways to prevail against the odds while supporting themselves as they achieved their mission.
Featured image: First Female Medical College of Pennsylvania Building, 1850 (Unknown photographer, Public domain, via Wikimedia Commons)