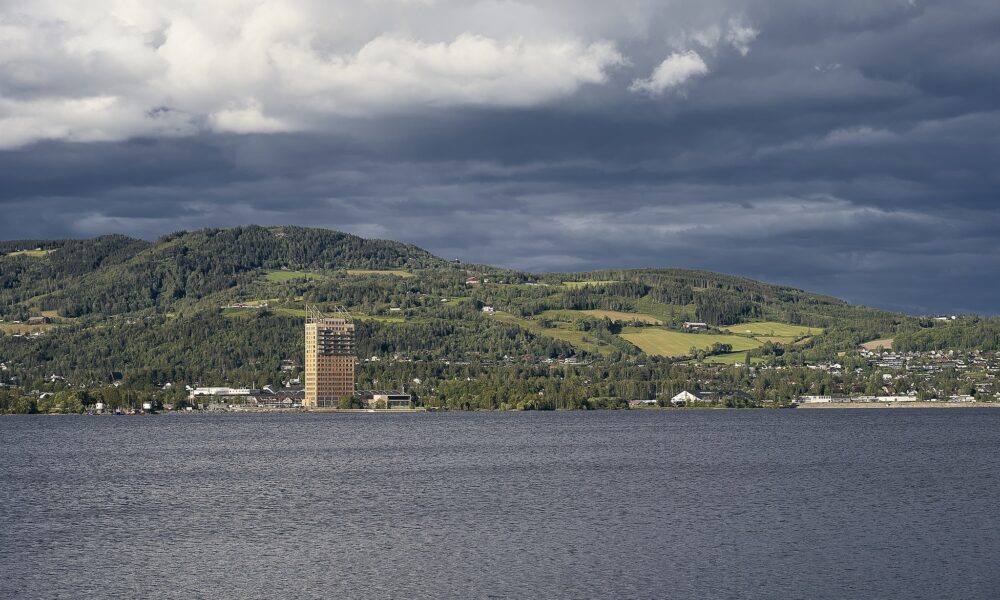 The world's tallest building made from wood is called Mjøstårnet and is located in the Norwegian town of Brumunddal. Built in 2019 and measuring 85.4 meters tall, it dominates neighboring Mjøsa lake, more than 100 kilometers north of Oslo. It is a mixed use building containing apartments, offices and a hotel (with the apt name of Wood Hotel).
Why is this significant, you might ask? The answer is because it is a sustainable alternative to the resource hogs of steel and concrete.
"To get attention, you have to build tall," Øystein Elgsaas, a partner at the architecture practice behind the record-breaking tower, Voll Arkitekter, told CNN.
"And when you have the world's tallest building made of timber, everybody says, 'Wow, what's going on in Norway?' People are interested, and that is actually the most important part of this building — to showcase that it is possible, and to inspire others to do the same."
The environmental cost of steel
According to WorldSteel, it takes 20 gigajoules (GJ) of energy on average to produce one tonne of crude steel globally. "It is estimated that the global steel industry used about 2 billion tonnes of iron ore, 1 billion tonnes of metallurgical coal and 575 million tonnes of recycled steel to produce about 1.7 billion tonnes of crude steel," it says. The production of one ton of steel emits almost 2 tons of carbon dioxide. So at 1.7 billion tons a year, that makes 3.4 billion tons of CO2 emissions for this sector alone, making it one of the largest contributors to such emissions and to climate change. Indeed, concrete and steel are responsible for 16% of emissions globally, according to a 2014 study in the Journal of Sustainable Forestry.
Choose wood instead
Wooden skyscrapers are built using cross-laminated timber: many sheets of wood glued and compressed together, providing greater strength than steel. Switching to wood could reduce the emissions from the construction industry by up to 31%, according to a study from the Yale School of Forestry & Environmental Studies. Wood is also lighter and easier to transport than steel, requiring fewer fossil fuels to transport it, further reducing emissions. And it is a renewable resource and carbon sink – with photosynthesis during the wood's growing period gobbling up carbon. When trees are turned into mass timber, that carbon is sequestered (i.e., it doesn't return to the atmosphere when the tree dies). Studies suggest that 1 cubic meter of wood can store more than a ton of carbon dioxide.
The developers of one such project, Milwaukee's Ascent apartment complex, say that its use of timber is equivalent to taking some 2,350 cars off the road.
The cost
The cost of cross-laminated timber has fallen in recent years and is now only marginally more expensive to produce than steel and concrete, according to an 18-month study comparing a tall timber building with a concrete and steel equivalent by Australia's University of New South Wales (UNSW). And doing things like pre-fabricating the components can help bring costs down further.
Other tall wooden buildings
Other buildings are in various phases of construction, some using different concepts and processes:
River Beach Tower in Chicago would be 80 stories tall (concept)
A 34-storey, nearly 133-meter residential building in Stockholm (planned)
An 18-storey student residence in Vancouver called Brock Commons (built in 2017)
A 300-meter wooden skyscraper in London called Oakwood Timber Tower (concept)
The HoHo, an 84-meter-tall wooden building in Vienna, Austria (built); the country is the largest producer of cross-laminated timber
A wooden high-rise in Tokyo standing at 350 meters (planned)
A 1,148-foot-tall wooden skyscraper by Japanese company Sumitomo Forestry to mark its 350th anniversary (planned for 2041)
The Sara Cultural Centre in Skellefteå, Sweden (inauguration Q3 2021).
Featured image: Dekonstruktive Mjøstårnet. Source: Øyvind Holmstad; licensed with CC BY-SA 4.0