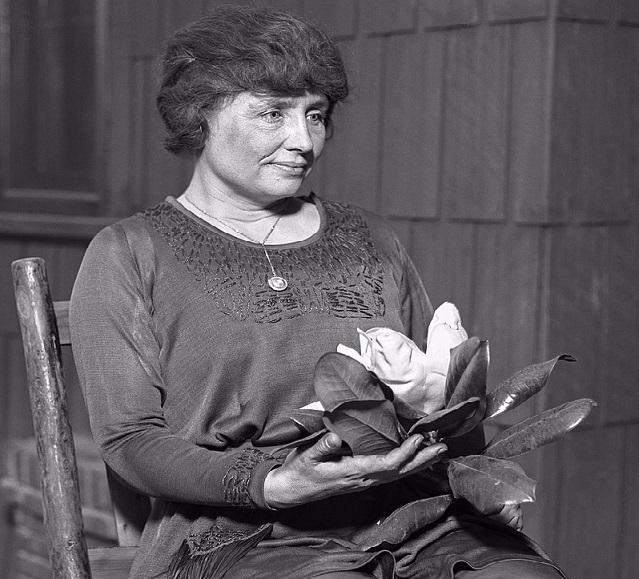 In Tuscumbia, Alabama in 1880, a baby girl was born who would make a difference to millions. Her name was Helen Keller and she was no ordinary child; at 19 months old, she contracted a disease (possibly rubella or scarlet fever) that caused her to lose her sight and hearing. As a consequence, she also lost the limited spoken language she had at that age, becoming speech-impaired. Yet she lived an accomplished life, full of achievement. Many years later she would say: "Life is a daring adventure or nothing. Security is mostly a superstition. It does not exist in nature." And so Keller's adventure started…
When Keller was six, her parents contacted the Perkins School for the Blind, and hired graduate Anne Sullivan (1866-1936) to train Helen. Starting in 1887, Sullivan taught the child to read Braille and communicate through sign language, and then to speak. These skills enabled Keller to complete her studies at the Cambridge School for Young Ladies before enrolling at Radcliffe College, from which she graduated cum laude in 1904. She was the first person with deaf-blindness to graduate from Radcliffe (now merged with Harvard University) and indeed to earn a Bachelor of Arts degree. During her studies, she learned German, Latin, Greek, and French, and found the time to write her autobiography, The Story of My Life (1903). In all of her studies and writing, Keller was assisted by Sullivan, who became a lifelong friend.
In 1913, Keller participated in the Woman Suffrage Procession parade in Washington, D.C., as a sign of her commitment to women's rights and their place in contemporary labor movements. She remained particularly interested in the concerns of working people, like industrial safety, which led her to join the Industrial Workers of the World (IWW). When the 1919 biographical film "Deliverance" (featuring appearances by Keller and Sullivan) premiered in New York City, rather than attending the opening, she chose to march alongside the striking actors.
Keller regularly lectured in support of the American Foundation for the Blind (AFB), where she worked for over 40 years, pushing for schools for the blind and Braille reading materials and for removing the deaf and blind from asylums. But her attention was not solely focused on the disabled. She was also dedicated to global causes. As an anti-war philosopher and pacifist, she protested US involvement in both world wars. Keller was also a tireless advocate for women's suffrage and rights, and co-founded the American Civil Liberties Union in 1920, an organization created to support constitutional liberties in the US.
According to Eileen Berdon, Keller wrote a great deal and travelled internationally, lecturing on personal, political, and academic subjects. The AFB reports that between 1946 and 1957, she visited 35 countries, meeting with world leaders such as Winston Churchill, Jawaharlal Nehru, and Golda Meir. In 1948, she was sent to Japan by General Douglas MacArthur as America's first Goodwill Ambassador.
Considering herself to be an author and "militant suffragette", Keller wrote over a dozen books, as well as over 475 speeches and essays on varied subjects, including faith, blindness prevention, disability rights, birth control, socialism, and the rise of fascism in Europe. In her own words: "I long to accomplish a great and noble task, but it is my chief duty to accomplish humble tasks as though they were great and noble. The world is moved along, not only by the mighty shoves of its heroes, but also by the aggregate of the tiny pushes of each honest worker."
Helen Keller was honored throughout the globe, receiving honorary doctoral degrees from Temple and Harvard Universities in the United States; Glasgow and Berlin Universities in Europe; Delhi University in India; and Witwatersrand University in South Africa. She was nominated for the Nobel Peace Prize in 1953, and she received an honorary Academy Award as the inspiration for the 1955 documentary about her life, "Helen Keller in Her Story." Four years before her death in 1968, Keller was awarded the Presidential Medal of Freedom in 1964 by President Lyndon B. Johnson.
Having devoted her life to social reform, it's no wonder that three decades later, in 1999, Keller's name appeared on TIME magazine's list of the 100 most important figures of the 20th century, alongside such personalities as Albert Einstein and Mahatma Gandhi.
When Helen Keller died at the age of 87, she was known and highly respected worldwide as a devoted revolutionary who worked ceaselessly to expose and address the oppression of those less fortunate. She remains a great symbol of courage and hope.
"The greatest woman of our age." —Winston Churchill
Featured image: Helen Keller, c. 1920 (CC Public Domain Mark 1.0 license)
Tags
ACLU
,
activist
,
AFB
,
Anne Sullivan
,
author
,
blindness
,
courage
,
deafness
,
disabilities
,
Helen Keller
,
hope
,
revolutionary
,
suffrage
,
women
,
women's rights