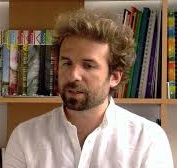 What will tomorrow bring? Few films show a positive vision of the future. But the documentary "Tomorrow", by French writer, film director, poet and activist Cyril Dion, and French actress, singer and screenwriter Mélanie Laurent, shows what humanity could look like tomorrow. 
This film aims to show what the human being does best. According to Dion and Laurent, its objective is not only to bring understanding of what's possible but to inspire and touch viewers. Films can propose new ideas and philosophies and can even change behaviors and attitudes, and this one tells the stories of people who are inventing a new world, one that respects the earth and humans.
"Tomorrow" touches upon the big issues: agriculture, energy, the economy, education and democracy. Dion and Laurent describe the film as a puzzle in which each piece is an initiative that addresses today's complicated challenges. Each part is the story of those who organize and encourage actions, and find and build alternative solutions, for example to replace a nuclear power station. The film's goal is to arouse feelings and hope, and to prompt people to think, "I can do that too". As in life, each story has a challenge that needs to be surmounted: for instance agriculture is currently dependent on oil, so the task is to change that situation and find a new way to drive agriculture. The result is a world that is ecologically and economically balanced, one that is already possible but that requires each person to mobilize to help construct it.
This documentary is not science fiction; it shows that solidarity can move mountains. Solutions exist, we can all change the world today for a better tomorrow.
This vision of tomorrow is optimistic because it shows that if we all join forces and hearts, every simple act can make a difference. Individuals, communities and cities can do more than States to improve things. So watch this film and act now. You will be marveled by the world and what people are doing.