Amy Purdy is a hot topic you may well have heard of. She's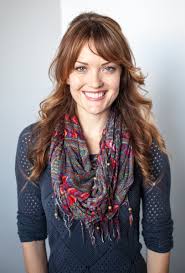 an athlete, author, model, entrepreneur, dancer, inspirational and motivational speaker and actress.
So, she's talented. Yes, but she's not just talented, she's a survivor, someone who redefines what is possible. At the age of 19, Amy became ill with bacterial meningitis, a serious infection of the membranes that surround the brain and spinal cord. According to Amy Purdy's website, close to death and "due to the lack of circulation she had suffered, doctors had to amputate her legs below the knee."
Amy also lost her spleen, kidneys and hearing in one ear. Slowly but surely, she picked herself up and dreamed of what seemed impossible. In her TED talk, Amy says she had to move forward, "to embrace the future." She asked herself, "If my life were a book and I were the author, how would I want the story to go?"
Amy embraced the future full force. She has won three World Cup gold metals in snowboard cross, becoming the top-ranked para-snowboarder in the United States. 
In 2005 she co-found Adaptive Action Sports with her future husband, Daniel Gale. The non-profit organization aims "to help create opportunities for individuals with physical disabilities to get involved in skateboarding and snowboarding, as well as other action sports".
Amy's positive attitude and sense of humor are striking in her TED talk. Her illness "forced me to rely on my imagination and to believe in the possibilities. That's why I believe our imaginations can be used as tools for breaking through borders. Because in our minds we can do anything, and we can be anything. It's believing in those dreams and facing our fears head on that allows us to live our lives beyond our limits."
To get to know Amy and her accomplishments better, check out her book, On My Own Two Feet: The Journey from Losing My Legs to Learning the Dance of Life.
Here she is, a dancing star: