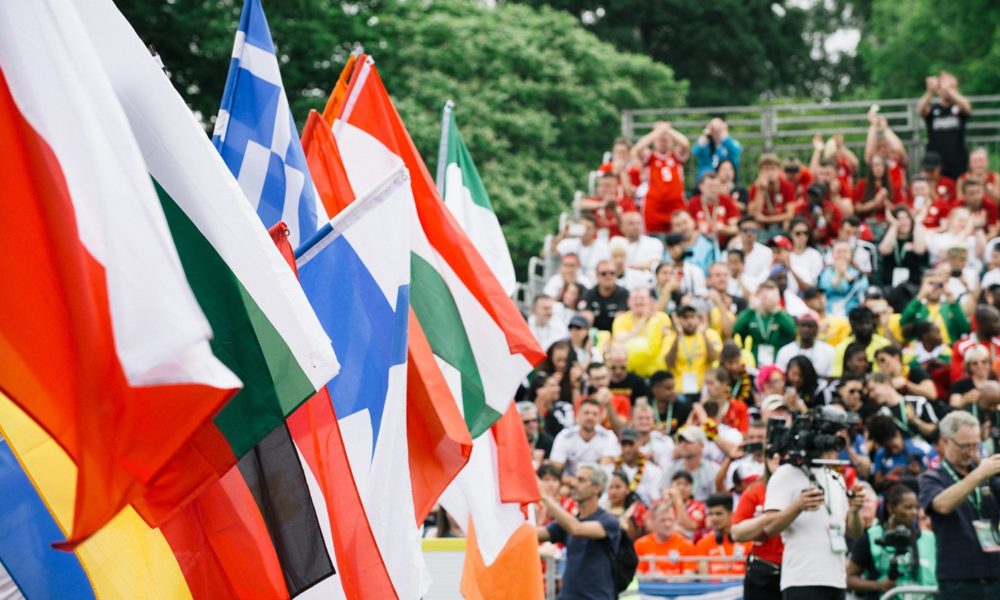 Let's imagine a world without homelessness. 
That's the goal of the Homeless World Cup Foundation: to end homelessness. The charity uses football (aka soccer) to help reach that objective. It organizes year-round activities that lead up to an annual association football tournament in which teams of homeless men and women from a multitude of countries compete. In the Foundation's own words, the event "has the power to change the lives of participants and shape attitudes" towards the issue of homelessness.
In the 18th edition of the tournament, the Homeless World Cup is scheduled for July 8-15, 2023 in Sacramento at California State University. It's the first time since 2019 that the competition will take place, due to the COVID-19 pandemic, and the first time it will be held in the United States. The Foundation has announced that 64 teams from 50 nations will compete this year.
In this video, Welsh actor Michael Sheen passes the ball from Wales, where the tournament was last hosted, to English actor Hero Fiennes Tiffin in Sacramento, California. It shows footage of the last "life-changing tournament":
According to the Homeless World Cup website, "An estimated 100 million people are homeless worldwide. As many as 1 billion people lack adequate housing. The characteristics and causes of homelessness around the world are complex and varied. Homeless people experience social exclusion and stigmatisation, economic hardship and poverty, and physical and mental health problems. The Homeless World Cup exists to help end this crisis in all its forms. Everyone deserves a home – it is a fundamental human right." Indeed, having safe, stable, affordable housing was recognized as a human right in the 1948 Universal Declaration of Human Rights.
The Homeless World Cup Foundation's premise is that football can be used for social development: "As an international language, football has the power to change lives. We use it as a tool to engage homeless and socially excluded people to participate in locally based development programmes, which all link to the wider international Homeless World Cup Foundation Network and the global movement." The Homeless World Cup website describes this further: "The sense of empowerment that comes from participating in football helps people who are homeless see that they can change their lives and the lives of those around them; and our Global Network of organisations give them the tools, skills and platform they need to do just that."
The Foundation's member countries are grassroots organizations in over 70 countries that directly engage with homeless and marginalized people. Members offer additional support services, such as help with housing, documentation, and mental health and vocational training.
"Our mission is to use football to support and inspire people who are homeless to change their own lives; and to change perceptions and attitudes towards people who are experiencing homelessness." – Homeless World Cup website
Social entrepreneur Mel Young co-founded the Homeless World Cup with his Austrian friend, Harald Schmied, in 2001. The first Homeless World Cup took place in July 2003 in Graz, Austria. It has truly become a global phenomenon, helping to transform the lives of over 1 million people in 70 countries using the power of football.
Featured image: Flags at the Homeless World Cup 2019, Cardiff (Image: Daniel Lipinski, Homeless World Cup website)